powerc.com Testimonials
Hi, just a quick note to say that my desktop computer built from PowerC has been running really well, even after 6 years and half. Never had any problems with it. Next year I will buy a new desktop pc from PowerC, I'm sure they will build another great pc for me. This time I will choose a good and fast one, with preferably an Intel I7 processor, M.2 Nvme ssd hard drive stick, fast RAM and also a silent case like the Be Quiet Silent base 600. I think it's going to be a really fast and great pc. Thanks again from a very happy customer.
massimo, 18 Sep 2020
---
Web site very easy to use. Full specifications given for all components. Prices competitive. Ordered computer on Monday and it was with me early Thursday morning. Well put together cabling neat and tidy. As I was adding two of my own DVD drives, panels were removed ready and appropriate cables conveniently left untied. In the past I've always built my own computers. However, with the sort of service and choice you get from from Power Computing why bother.
Michael Clinch, 17 Sep 2020
---
great service and quick, helped me when the order online wasnt working and will be delivered on the date they said
simon pickering, 16 Sep 2020
---
Thanks for the excellent computer. It starts rapidly with the SSD, runs quietly with the liquid cooling and is an all round excellent computer.
Stuart Roberts, 28 Aug 2020
---
Very pleased with the service from Power Computing. I took in my Mac having 'posted' an SD card into the CD driver slot (oops!). 5 hours later I had a phone call saying that it had all been sorted out. CD drive and SD card both fully functional. Thank you.
Hilary Cannon, 06 Jul 2020
---
My old laptop ran out of power for videoconferencing so my primary machine (5yo HP laptop) became the portable. Very easy to put together the machine I wanted for my new primary PC on the powerc.com website, and good value for money. Ordered it on Tuesday afternoon and it was delivered on Thursday. I'm guessing that most customers will run Windows but I installed Fedora 32 Linux on a bare metal machine. Tweak to get the wireless card driver behaving, install some nVidia drivers for the graphics card and it has been running very nicely and flawlessly since. I'm very happy with it and I expect to use Power Computing again when the next upgrade comes around.. Thanks to all in Bedford
Ted Hayes, 02 Jul 2020
---
Bought a desktop gaming pc from this company in 2018 & was met with a very helpful, friendly & professional staff over phone contact that enabled me to get a great pc. Still running very well & worth every penny, assembled & delivered with no problems at all. If i buy another pc it will be from these people!
simon singh, 26 Jun 2020
---
I needed to move on from my old Vista machine and nothing 'off the shelf' really took my eye. Nothing advertised hit all the right choices. So I wanted to configure my own requirements for a fairly powerful Windows 10 computer for photographic work and general purpose - a spec that would be bang up to date, quick and with plenty of capacity. I found Power Computing (powerc) by a bit of research and very good reviews. They were right. The powerc website gave great selection to easily enable upgrading from a choice of standard configurations, with lots of good information on all the options. I had a couple of questions which were immediately answered on the phone by Tom, who also made a couple of recommendations about my choices before I submitted the final order. Build, test and delivery were all very quick and very efficient. Thank you Tom and Power Computing.
John Handford, 01 Jun 2020
---
Hello there, My previous tower/ASUS computer came from Power Computing in 2007 and was successful, that is why I returned for a second time. The plan was for a new ASUS Prime 310H. Thank you for promptly answering my early questions before I before I made up my mind this time. If this new machine lasts as long as the last I shall be well pleased. (I'm 75 :-) Thank you for leaving SATA cables handy etc ready for the drives I mentioned moving from the old ASUS. Well, it's up and running and lovely and quiet. The transition went very well. I use a Samsung T5 and NAS as a safe backup medium for my 200Gb of personal files I don't trust to the Cloud. The old m/c is still working; I found an original 500Gb hdd for it, and using a spare 32Gb MicroSD and USB adapter I made a Windows10 recovery disk before I finally robbed it of it's SSD C drive. Bit slow but a great reserve m/c. Thanks for the help and great service. I'll be back in 13 years...
Nigel Dennigan, 24 May 2020
---
I have used Power Computing in the past, for many years. They are a well established, reliable professional company, so when I decided to replace the computer that I bought from them nine years ago I went straight back to them. Even in these difficult "lockdown" times, they upheld their high service and efficiency standards. The whole process was a pleasure, from the helpful assitance in choosing the most up to date and relevant components to actually delivering the completed build within a few days. I am absolutely delighted with the new system, and so pleased that I made the decision to upgrade. Have no doubts about buying from Power Computing, they are excellent, and I will continue to use them for as long as I need computers. Thank you. David Nicholson, D & D Consultants Ltd, Bedford.
David Nicholson, 24 Apr 2020
---
Payment Methods
We accept most credit and debit cards online and in-store, secured by SagePay. In addition you can pay using PayPal.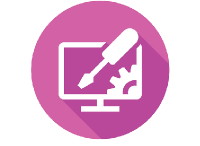 Our 2 Year Warranty
We are so confident about the quality of our systems that we are able to cover our PC Systems with a two-year, free collect-and-delivery, warranty on parts and labour.

Finance your Purchase
Spread the load with our affordable finance packages.