powerc.com Testimonials
I have been using Power Computing for most of my computing hardware since 1996 and it is a remarkable service, friendly, helpful and knowledgeable. Will build a computer to suit your needs
Phyllis Jones, 10 Feb 2021
---
Have ordered from you before and have been vert satisfied in past with your PCs. This time was no exception and I would like particularly like to thank Tom who went out of his way to help prevent me ordering what would have been unable to meet my needs and steered me back on the straight and narrow. Thanks Tom!
Tony Hill, 30 Jan 2021
---
Hi, just a quick update on my pc, next month my pc will be 7 years old and so far I had encountered no problems at all. The pc was bought from Power Computing and has been running really smoothly since then. Happy with the service provided by Power Computing. In 2022 I will be buying a new pc from these guys again, I'm sure they'll put together a great pc for me. Thanks from a very happy customer.
massimo, 14 Jan 2021
---
Purchased a custom PC 6 yrs ago and the experience was very positive. Being able to discuss and choose the components for a multi-screen set-up was excellent: I got what I wanted - no more, no less. Advice was friendly and expert and machine worked perfectly first time on receipt. I will return to PowerC when I need another computer.
Clive Henderson, 05 Jan 2021
---
Really helpful advice and assistance from Tom - thank you!
Dr Chan ABRAHAM, 25 Nov 2020
---
Again only making a small purchase from Powerc you get treated the same way as making a large purchase and thank you for you help Tom and answering all may questions
Frederick Stevens, 01 Nov 2020
---
Bought a new PC with Windows 10, very pleased with it. Excellent service and help. Highly recommended company.
Brian Farey, 19 Oct 2020
---
Many thanks to the team at Powerc.com. I required a computer capable of handling Microsoft's Flight Simulator 2020. I also wanted the build specifications higher, than those recommended by Microsoft in order to cope with the development of this product, and for additional future add ons provided by third party developers. With this in mind, and the help and advice from Tom at Powerc.com. We achieved this, and l got myself a " Mean Machine" l've ran it now for 2 weeks, put it through its pacers, and it performs perfectly. Therefore, l can state that, l highly recommend this company. The service l received was first class in every respect. And to those who are thinking of either buying or upgrading, May l suggest you first speak to Powerc.com. You maybe saving yourself a lot of grief. D.
Derek Boxer, 17 Oct 2020
---
We contacted powerc.com via email for a system that would suit an animation student at university, without much knowledge about what was required. We received a response promptly, showcasing a very functional setup. All further questions were answered in detail and the process could not have been better. The PC was delivered on time and everything arrived perfectly. I've been using the system for a week and it's been working excellently. Thank you Steve for helping all the way!
Anthony Sarmiento, 01 Oct 2020
---
Hi, just a quick note to say that my desktop computer built from PowerC has been running really well, even after 6 years and half. Never had any problems with it. Next year I will buy a new desktop pc from PowerC, I'm sure they will build another great pc for me. This time I will choose a good and fast one, with preferably an Intel I7 processor, M.2 Nvme ssd hard drive stick, fast RAM and also a silent case like the Be Quiet Silent base 600. I think it's going to be a really fast and great pc. Thanks again from a very happy customer.
massimo, 18 Sep 2020
---
Payment Methods
We accept most credit and debit cards online and in-store, secured by SagePay. In addition you can pay using PayPal.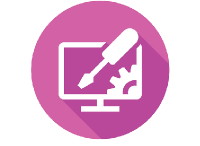 Our 2 Year Warranty
We are so confident about the quality of our systems that we are able to cover our PC Systems with a two-year, free collect-and-delivery, warranty on parts and labour.

Finance your Purchase
Spread the load with our affordable finance packages.