powerc.com Testimonials
The excellent after sales service goes on! I recently had an issue with a corrupted hard drive and both Tom and Steve not only gave me the confidence to do something about it but also sent me detailed instructions as well as being by the telephone to ensure an entirely satisfactory outcome. Fantastic! Thanks guys.
Jon Raynes-Wharton, 29 Sep 2017
---
My new m/c was delivered, connected and set up by Tom in about 10-15 minutes - absolutely brilliant - I was up and running on e-mail & web immediately. It just left me to do the "odd & sods" such as get my 2 external HDD's identified & running with all the data from my previous XP machine - no problems at all. Following Toms' wisdom I have even got Office XP Pro 2003 up & running. If you want some kit get yourself to power computing ltd.
Brian Edwards, 13 Jul 2017
---
Computer number 4 , over seems like forever!, and a nice quiet fast little performance home pc for my daughter as promised for doing well at everything. She has just unpacked and finished setting up and registering stuff and has just skyped me to say thank you very much and she is over the moon with its performance and quietness, straight out of the box. Arrived as promised the next working day ,only two working days since ordered. Was contacted to ensure the computer was set up to how my daughter would like, a really nice touch . Another pain free purchase from Power C Thank you very much. Peter.
peter lewis, 05 Jun 2017
---
We have just purchased a Custom performance home PC. Having discussed options with the very knowledgeable guy there we were able select the most appropriate customisation and picked the computer up a few hours later. It works superbly well and we have been extremely impressed by the build quality, price and service. We can thoroughly recommend Power Computing and will be using them again.
John Nevett, 04 Jun 2017
---
Superb, customer service. When the liquid CPU cooler on my PC failed after 3 1/2 years trouble free use, I reported it and in 48 hours later I am back at home using a fully repaired system. Thanks especially to Tom and the technician for waiting 15 minutes after closing when I was stuck in rush hour traffic.
Ashley Ford, 25 May 2017
---
I have now bought a total of three computers, two desktops and have just ordered a laptop from power computing over the last eight years. I am extremely pleased with the service that I have received from them and will certainly use the company for any future computing needs, they are always very helpful and courteous.All in all a brilliant service. Thank you.
Michael Neeson, 15 May 2017
---
I only have words of appreciation for the services of Power Computing both for the quality of purchased products and even more for the customer service, not to mention the short delivery time that has exceeded all my expectations! Thank you, I will recommend your services to anyone looking for quality!
Ionut Ghita, 31 Mar 2017
---
I am awaiting delivery of my next desktop from power, I purchased one many years ago and it has lasted very well, performing almost flawlessly for around 7 or 8 years, time for a new one. I spec'd and ordered and the PC was built and then despatched next day, marvellous, hopefully it will be just a good quality and reliability wise as the one I am using now. Time will tell...I'll be in touch again..
Paul E Tursner-Upcott, 03 Mar 2017
---
Excellent company, would highly recommend. Nothing is too much trouble and brilliant after sales service. Recently had dealings with a guy called Tom, who sorted the upgrade of my sons pc. Top bloke
Pete Beech, 10 Feb 2017
---
I first bought some systems from Power Computing back in 2008. At that time I bought the best I could get and only now I have needed to replace the machine for what what I wanted to be able to do. With just one week over from having a whole new custom built machine, again at the top end of processor and hard drives I can happily state that the speed of build, the quality and excellence of the system is perfect. To be able to order a bespoke machine, have it built and tested and then dispatched 3 days later is just awesome. My new PC now boots in seconds. The responsiveness is excellent and the LED "disco show" is a great addition. The delivery being aimed for by midday is also excellent as you get time with your new machine :) All in all, I used this company in the past (where I had to get a graphics card replaced once where they replaced with a better model as the one I had was no longer produced) and I looked to them again to make me a newer PC. I've had three PC systems from Power Computing and never once had any worries over the build or service. Top notch company, and one I will keep in my mind for use if ever need.
Paul Williams, 01 Feb 2017
---
Payment Methods
We accept most credit and debit cards online and in-store, secured by SagePay. In addition you can pay using PayPal.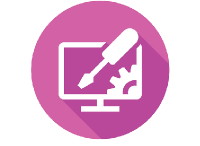 Our 2 Year Warranty
We are so confident about the quality of our systems that we are able to cover our PC Systems with a two-year, free collect-and-delivery, warranty on parts and labour.

Finance your Purchase
Spread the load with our affordable finance packages.