powerc.com Testimonials
I needed to move on from my old Vista machine and nothing 'off the shelf' really took my eye. Nothing advertised hit all the right choices. So I wanted to configure my own requirements for a fairly powerful Windows 10 computer for photographic work and general purpose - a spec that would be bang up to date, quick and with plenty of capacity. I found Power Computing (powerc) by a bit of research and very good reviews. They were right. The powerc website gave great selection to easily enable upgrading from a choice of standard configurations, with lots of good information on all the options. I had a couple of questions which were immediately answered on the phone by Tom, who also made a couple of recommendations about my choices before I submitted the final order. Build, test and delivery were all very quick and very efficient. Thank you Tom and Power Computing.
John Handford, 01 Jun 2020
---
Hello there, My previous tower/ASUS computer came from Power Computing in 2007 and was successful, that is why I returned for a second time. The plan was for a new ASUS Prime 310H. Thank you for promptly answering my early questions before I before I made up my mind this time. If this new machine lasts as long as the last I shall be well pleased. (I'm 75 :-) Thank you for leaving SATA cables handy etc ready for the drives I mentioned moving from the old ASUS. Well, it's up and running and lovely and quiet. The transition went very well. I use a Samsung T5 and NAS as a safe backup medium for my 200Gb of personal files I don't trust to the Cloud. The old m/c is still working; I found an original 500Gb hdd for it, and using a spare 32Gb MicroSD and USB adapter I made a Windows10 recovery disk before I finally robbed it of it's SSD C drive. Bit slow but a great reserve m/c. Thanks for the help and great service. I'll be back in 13 years...
Nigel Dennigan, 24 May 2020
---
I have used Power Computing in the past, for many years. They are a well established, reliable professional company, so when I decided to replace the computer that I bought from them nine years ago I went straight back to them. Even in these difficult "lockdown" times, they upheld their high service and efficiency standards. The whole process was a pleasure, from the helpful assitance in choosing the most up to date and relevant components to actually delivering the completed build within a few days. I am absolutely delighted with the new system, and so pleased that I made the decision to upgrade. Have no doubts about buying from Power Computing, they are excellent, and I will continue to use them for as long as I need computers. Thank you. David Nicholson, D & D Consultants Ltd, Bedford.
David Nicholson, 24 Apr 2020
---
i purchased a custom built computer from powerc all of 15 years ago (little late for a review) - upon delivery the computer wasn't booting up (CPU was loose). i called powerc and and they had the tower collected. as an apology, they sent down an engineer to install the computer and make sure i was happily up and running. impeccable service. Now, 15 years later, its time for a new tower. i spoke with Tom about the demands i required and he ran through a PC spec with me, modifying certain components to suit my needs. happy customer and have have yet to even receive the new monitor and tower. p.s. even the iiyma monitor still going strong 15 years on. very impressed with the service, than you for helping those, like me, who are not particularly computer literate when choosing components. Ryan.
Ryan Everington, 21 Mar 2020
---
Excellent service as ever from Tom & the team at Power Computing. Cannot recommend them highly enough. Super job, carried out on time, with first rate components and at a very fair price. Fast friendly service that you can trust. I certainly will be using them again. Many thanks Tom - Andy Wesley.
Andy Wesley, 29 Jan 2020
---
Excellent service from Power as I expected> Delivery date was inconvenient but was rearranged promptly and efficiently. When I contacted the support team with a problem caused by my own idiocy they very quickly put me back on course. A* experience. (If only Parcelforce had been as efficient - failing to deliver on the day they advised but did the following day. However this seems quite common with them and obviously no fault of Power Computing, but they may wish to note it.) I would totally recommend Power Computing.
Quentin Heaney, 28 Jan 2020
---
Wishing you all a great Christmas and a fantastic new year, thank you for a great build. Ray Ferguson
Ray Ferguson, 13 Dec 2019
---
I lost hours of work three times. My computer turned off and restarted, losing the document that I was working on. The three shutdowns were days apart just enough time to stop saving the document every five minutes. Power computers changed a faulty power supply, upgraded the hard drive to solid state and got it up and running in less than 24 hours. I did not even need to log into my accounts again to open programs and it is so, so fast. Great service
Gary Magee, 06 Dec 2019
---
BIG THANK YOU POWERC and TOM for great advice and help with upgrading my antivirus software to Malwarebytes (Premium) and installing it remotely this showed up my previous antivirus software as being very weak as when I wanted to load some web sites I had used before Malwarebytes BLOCKED them and quite a few others
Frederick Stevens, 28 Nov 2019
---
Really pleased with the computer that Tom and his team have put together for us. Everything was done with clear, friendly advice and then the rest of the process was fuss-free and easy. The computer worked 'straight out of the box' and has given great service in the few weeks I have been using it. Most impressed.
Aidan Huxford, 24 Oct 2019
---
Payment Methods
We accept most credit and debit cards online and in-store, secured by SagePay. In addition you can pay using PayPal.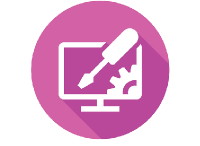 Our 2 Year Warranty
We are so confident about the quality of our systems that we are able to cover our PC Systems with a two-year, free collect-and-delivery, warranty on parts and labour.

Finance your Purchase
Spread the load with our affordable finance packages.