powerc.com Testimonials
I lost hours of work three times. My computer turned off and restarted, losing the document that I was working on. The three shutdowns were days apart just enough time to stop saving the document every five minutes. Power computers changed a faulty power supply, upgraded the hard drive to solid state and got it up and running in less than 24 hours. I did not even need to log into my accounts again to open programs and it is so, so fast. Great service
Gary Magee, 06 Dec 2019
---
BIG THANK YOU POWERC and TOM for great advice and help with upgrading my antivirus software to Malwarebytes (Premium) and installing it remotely this showed up my previous antivirus software as being very weak as when I wanted to load some web sites I had used before Malwarebytes BLOCKED them and quite a few others
Frederick Stevens, 28 Nov 2019
---
Really pleased with the computer that Tom and his team have put together for us. Everything was done with clear, friendly advice and then the rest of the process was fuss-free and easy. The computer worked 'straight out of the box' and has given great service in the few weeks I have been using it. Most impressed.
Aidan Huxford, 24 Oct 2019
---
Some years back I have purchased two computers. One at PC Specialist and one at Powerc.com in Bedford. Although the former was slightly cheaper it quickly developed issues that were very sluggishly resolved by the seller over 6 weeks period. In comparison, the computer I've purchased at powerc.com is performing much better and hasn't had a single issue. Considering consistent professionalism I have come across on various occasions when dealing with powerc.com, I whole heartedly recommend them. It doesn't matter if you are upgrading or purchasing a new equipment. They will sort it out for you.
Richard Kozuba, 16 Oct 2019
---
My computer arrived in less than 48 hours and is blindingly fast. I ordered a Custom Intel i5 i7 i9 Performance Home PC but with a 1 Tb SSD hard drive and 16 Gb memory, If you want speed I would highly recomend it. I had some trouble setting up my monitors, (I have two), and telephoned Power Computing. The phone was answered in less than 20 seconds, (on a Saturday), by Tom who solved my problem in a few minutes. If you are considering buying a computer I would highly recomend this company.
Tony Sellick, 04 Aug 2019
---
Needed to get my laptop up and running, went to these guys within two days it was ready for pick up. works like brand new more so i needed some tech help called these guys up and in no time i was doing what i needed to get done without any stress.Great guys thanks a lot, i would definitely find you when i need any tech work done.. .
Hassle , 14 Jun 2019
---
Went in on Saturday to Kempston store with a faulty MacBook Pro. Picked up today (12th June 2019) repaired very quickly and a very good price. Would recommend.
Petr Cozzi, 12 Jun 2019
---
After trawling the internet I finally came across exactly what I was looking for a Helpful small firm that could advise me on the best machine for me and was even happy to speak out of hours to make sure I was happy with my purchase. Excellent service from Tom and his team all the way. All within three days of my first message to delivery on the third day.
Jonathan Bees, 05 Apr 2019
---
Many thanks to Tom & your team, I have had several units build by your team over the years- always been top notch - this last unit is the bees knees - great build quality and components - the system is running like a dream - your service is first class: many thanks
Ray Kattenhorn, 04 Mar 2019
---
Just to let you know that my pc bought from Powerc has been running really well. In almost 5 years I never had any problems with it. Powerc has put together a really good pc for me. Next time, in a few years time when I will need another pc I would not hesitate to buy again from Powerc.
massimo, 16 Jan 2019
---
Payment Methods
We accept most credit and debit cards online and in-store, secured by SagePay. In addition you can pay using PayPal.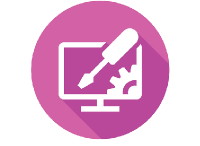 Our 2 Year Warranty
We are so confident about the quality of our systems that we are able to cover our PC Systems with a two-year, free collect-and-delivery, warranty on parts and labour.

Finance your Purchase
Spread the load with our affordable finance packages.