powerc.com Testimonials
Once again a fantastic service, ordered online out of shop hours on Saturday and it was ready for collection by Tuesday. Beautiful build, does exactly what I wanted, brilliant! Also customer service as awesome as ever, thank you Tom and the team. Anyone looking for a new system, look no further than Power Computing, you have come to the right place. Thanks all. :)
Barry West, 24 Oct 2018
---
Good advice within my budget was given by Powerc for my new custom PC. Professional service and the PC arrived on time. Would not hesitate to recommend to anyone wishing to buy custom PCs.
Jignesh Kapadia, 03 Sep 2018
---
My recent new Computer purchased from Power Computers, is the third Computer that I have bought from them, over a period of approx. 16 years, and I have never had even the slightest reason to complain, regarding their service or the quality and reliability of the Computers themselves. My Computers have to work hard and they are always left to run continuously 24/7, and I have never had one single breakdown. The first one ran for ten years, and the second for six years, and it was still working faultlessly, but I have replaced it because I needed a more powerful Machine. Nice people, excellent help, advice and service, what more could anyone want. Further more, where else can one build there own Computer on line, have it built to one's own specifications, and delivered to your door inside three days. Well done, Once again Power Computers. Regards and Thanks Peter F.
Peter Friend, 24 Aug 2018
---
Delivery on time as requested, And also thank you for Tom to sort it out the quereies of my new PC on the phone.
KM , 08 Aug 2018
---
Just purchased a Home PC. It was built quickly and i collected it today It all works very well and the service and advice i recieved was excellent Thoroughly recommended
John Nevett, 08 Jun 2018
---
Excellent swift repair. Up and running in 48 hours.
Ian Bridgeman, 23 Feb 2018
---
Not that you're likely to need it but...the company's guarantee is as good as it looks. A component (the on/off switch) went on my mini ITX box after a year. PowerC couriered it home to Bedford , fixed it and couriered it back to Brixton. No hassle. No questions. No charges - except for an upgrade; I paid for a new C drive (an SSD).- but not the fitting. And PowerC transferred stuff from the HDD to the SSD immaculately. So, no worries either. Friends'n'family were slightly shocked that a company could mean what it says, as PowerC did/does.
Peter Holmes, 03 Jan 2018
---
I've never used this company before, I always go on recommendation but my friends didn't know of anyone. I had a chap whom I used for many years whom I would 100 percent recommend but he retired. Since, I've had cowboys and been so so disappointed till now. Service, price & customer assistance is 100 percent super. I would recommend this company to family and friends without a second thought as I would to you, if like me you've had cowboys then no more these are the real deal.
ann dennis , 09 Dec 2017
---
One of the best commercial experiences I've ever had. Competitively priced parts, very fast service and extremely professional. One bit of feedback: I wasn't completely sure if the machine was going to come overclocked, it was. Definitely not a bad thing, but maybe making it more obvious on the website could be beneficial. As Power Computing are local, I plan on using them again and again. Thanks!
Scott Sanderson, 20 Nov 2017
---
Hi, just to let you know , that my pc built by PowerC is still running like new, never had any problems. Recently I contacted PowerC with a query and they were able to come up with a solution. They are really great, when it will come to get a new pc I will not hesitate to use again PowerC. Thanks again from a very happy customer.
Massimo, 20 Nov 2017
---
Payment Methods
We accept most credit and debit cards online and in-store, secured by SagePay. In addition you can pay using PayPal.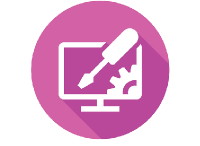 Our 2 Year Warranty
We are so confident about the quality of our systems that we are able to cover our PC Systems with a two-year, free collect-and-delivery, warranty on parts and labour.

Finance your Purchase
Spread the load with our affordable finance packages.