powerc.com Testimonials
ordered in the morning shipped in the afternoon, package boxed with care and attention and cannot ask for a better experience, will be a repeat customer in the future. Thank you
ms H, 08 Oct 2021
---
Quite a hidden jewel! They had GPU's so I bought two and it ran out of stock the next day due to the increased demand. Other than that, I called, they arranged faster delivery, and provided excellent customer support.
Darbis Garrie, 21 Apr 2021
---
I have just come back to PowerC after buying my last gaming PC from them in 2013 (!). It still hasn't failed, I just wanted to have something up-to-date. Spoke to Steve who was very helpful, super speedy delivery and a very high quality build and finish. Well packaged too :) Highly recommended!
Gareth Cork, 10 Apr 2021
---
I have dealt with Power Computing for many years now and I must say that their service is second to non in Bedford and the surrounding area. Always extremely polite and eager to assist in any way they can. I certainly will continue to buy from them. Keep up the great work guys
Colin Glover, 11 Mar 2021
---
I have been using Power Computing for most of my computing hardware since 1996 and it is a remarkable service, friendly, helpful and knowledgeable. Will build a computer to suit your needs
Phyllis Jones, 10 Feb 2021
---
Have ordered from you before and have been vert satisfied in past with your PCs. This time was no exception and I would like particularly like to thank Tom who went out of his way to help prevent me ordering what would have been unable to meet my needs and steered me back on the straight and narrow. Thanks Tom!
Tony Hill, 30 Jan 2021
---
Hi, just a quick update on my pc, next month my pc will be 7 years old and so far I had encountered no problems at all. The pc was bought from Power Computing and has been running really smoothly since then. Happy with the service provided by Power Computing. In 2022 I will be buying a new pc from these guys again, I'm sure they'll put together a great pc for me. Thanks from a very happy customer.
massimo, 14 Jan 2021
---
Purchased a custom PC 6 yrs ago and the experience was very positive. Being able to discuss and choose the components for a multi-screen set-up was excellent: I got what I wanted - no more, no less. Advice was friendly and expert and machine worked perfectly first time on receipt. I will return to PowerC when I need another computer.
Clive Henderson, 05 Jan 2021
---
Really helpful advice and assistance from Tom - thank you!
Dr Chan ABRAHAM, 25 Nov 2020
---
Again only making a small purchase from Powerc you get treated the same way as making a large purchase and thank you for you help Tom and answering all may questions
Frederick Stevens, 01 Nov 2020
---
Payment Methods
We accept most credit and debit cards online and in-store, secured by SagePay. In addition you can pay using PayPal.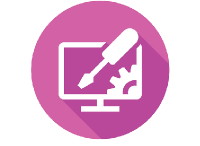 Our 2 Year Warranty
We are so confident about the quality of our systems that we are able to cover our PC Systems with a two-year, free collect-and-delivery, warranty on parts and labour.
Finance your Purchase
Spread the load with our affordable finance packages.