Laptops
Laptops are great for convenience and computing on-the-move but rarely compete with a desktop PC if you need ultimate power and super-fast processing speeds. They are tremendously useful for those who travel a great deal.
Payment Methods
We accept most credit and debit cards online and in-store, secured by SagePay. In addition you can pay using PayPal.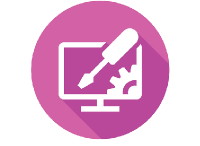 Our 2 Year Warranty
We are so confident about the quality of our systems that we are able to cover our PC Systems with a two-year, free collect-and-delivery, warranty on parts and labour.