Mini PCs
You are in the right place if you are searching for a Mini custom PC computer with an intel i3 i5 i7 CPU. The custom Intel celeron Quad core custom mini tower pc system is aimed at people that want an entry level PC that just does the job, quickly. The CPU on this system cannot be upgraded. This PC is designed to perform basic tasks such as surfing the web, checking e-mails, mild word processing etc., or to be used as an HTPC. The PC can be upgraded to better accommodate your specific needs.
Intel i3, i5 or i7 small custom mini pc tower systems are also aimed at customers that want a small tower and do not want to take up a lot of room. They are designed to be placed upright or mounted to the back of a screen. The size of these mini tower pcs is 26cm height x 22cm depth x 8cm width. They have good air flow & can be upgraded from Intel i3 right up to the Intel i7 CPU. Also it can be upgraded to a massive 16GB of ram and include a DVD Drive. Custom build this Mini PC to your requirements.
The intel Nuc system is the smallest custom intel i3 i5 mini pc. This tiny PC literally fits into the palm of your hand.
Payment Methods
We accept most credit and debit cards online and in-store, secured by SagePay. In addition you can pay using PayPal.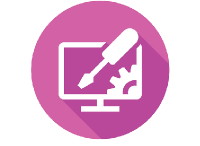 Our 2 Year Warranty
We are so confident about the quality of our systems that we are able to cover our PC Systems with a two-year, free collect-and-delivery, warranty on parts and labour.

What our Customers say