CAD PCs
If you need a work PC for Computer Aided Design (CAD) or 2d or 3d visualisation graphics software (AutoDesk, MAXON Cinema 4D, Cativia V5 et al) then we have custom PC options to suit your budget. Choose from one of our Intel i5 i7 or Custom X99 XEON CAD Workstation PCs all featuring the latest Generation CPUs by Intel i.e. the Kaby Lake 7th Generation CPU, the X99 Broadwell-E CPU and the Xeon Haswell-EP CPU. We are here to help you choose your perfect custom CAD workstation PC. Contact us if you need any help to customise your CAD PC.
Payment Methods
We accept most credit and debit cards online and in-store, secured by SagePay. In addition you can pay using PayPal.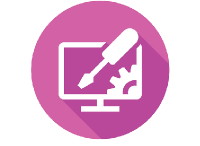 Our 2 Year Warranty
We are so confident about the quality of our systems that we are able to cover our PC Systems with a two-year, free collect-and-delivery, warranty on parts and labour.

What our Customers say